This page includes info regarding my 1978 Bally Playboy 4 Player SS Pinball game. I paid $500 for the game in June of 2007 when I bought it from my friend Tim (Bally Tim). This game is what you would call a "project" game. It probably works if I remember right but was somewhat disassembled for a restoration effort that didn't occur before I got it. The backglass is in great shape but there's some significant wear on the playfield which is very common for Playboy games.
The backglass depicts Patti McGuire (who married tennis great Jimmy Connors) and Sondra Theodore (both were playmates of the era) along with Hugh Hefner of course. I have a NOS set of plastics for the game given to my by my friend Kim and although there have been some remakes of the playfield, I currently don't own one. This looks like a game that will require some serious touchups since it's down to bare wood in many places (especially the center artwork), or I may have to spring for a new or better playfield. The cabinet is in great shape and the colors are still bright.
There were 18,250 of these games made and it was released in December of 1978. The game features 2 flippers, 3 pop bumpers, 2 slingshots, 6 standup targets, one 5-bank of drop targets, and an upper left kickback lane. Jim Patla was the designer and it has beautiful artwork designed by Paul Faris.
(click picture to enlarge)


Playboy Flyer 1


Playboy Flyer 2


Playboy Flyer 3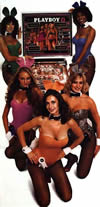 Playboy Flyer 4
All Graphics & Text © Steve Corley
The pictures you see were created by Steve Corley unless otherwise noted.
Unauthorized use is strictly prohibited