Sooooo, wondering how I created this site? The tools aren't too tough, but it's very time consuming to do a website of this size, especially if the site is updated with a new look and feel. My site (I'm updating this in late December of 2011) includes 176 html web pages, and 8,526 image files. There are a total of 9,037 files and 160 directories totaling a little over 1 gig in size, so this site isn't all that dinky for a personal web site. The image files are constantly growing since I have travelled to Europe a number of years and add pictures taken during the trips as well as all of my Pinball stuff. That's a lot of content management. For those of you that are unfamiliar with website design, the images are not just the pictures that you notice throughout the site. It's page logos, icons, full size pictures and their associated thumbnail pictures that allow you to quickly view each large picture on a web page.
I provide a list of the tools below that I have used when constructing my personal website, and although the tools are helpful, the person that made it work well for me is my buddy Jimbo. I met Jimbo at work in early 1998 while working at Qwest but didn't tell him about my website until later that year. I was needing a new look and feel since it's easy to get tired of the same old thing, so mentioned this to Jimbo and he threw out some ideas along with some images he created that looked cool compared to what I was doing in prior years. This initial involvement has led to Jimbo being an integral part of the look and feel along with the front page icons and logos I have used since meeting him. I'm not the only one he does this for and he's created some really nice looking stuff for others along the way. You will find some of the early woodman.org designs dating to the mid to late 90s further down on this page.
This is my 8th incarnation of the site that was formerly known as "Woodman" until I gave up the domain name in early 2004. The current look and feel with major editing updates took me about 250 hours to accomplish. It's mostly the pictures and all the stuff that goes in to creating them, thumbnails, picture captions (mouseover text that I'm not always so good about keeping up to date), etc. I probably won't update the look and feel for at least a couple of years after this last episode in 2004 although I really need to use CSS and redo the entire site.
In the early days of my Woodman website in mid-1995 which was based on my personal account with Concentric, I got some disk space included with dial-up when signing up with Concentric as my ISP. Back then, it included only 1 meg of disk space to hold everything and since I only had a few pages that included family pictures for my family in Florida to view and some basic Pinball info, it seemed like plenty of space. I got in to Pinball as a hobby in 1992 and began including Pinball pictures in late 1995 which exceeded the disk space limitations. My way of fixing this problem was to buy the Woodman domain name in 1996 and hosted my website (rather than using the extension from Concentric's domain name) with a dedicated domain name using Concentric as the web hosting company. Unfortunately, the woodman.com domain name was already in use by a lumber company so I chose the woodman.org domain name (don't do this, it was stupid to use .org since no one would normally think of .org versus a .com extension).
Once I got my website hosted with the woodman.org domain name, I began adding more and more pictures of family members as well as adding Pinball pictures and information related to the hobby. The hosting service included 25 meg of disk space that seemed like quite a bit at the time, but by 2001 it wasn't enough because I began adding more and more pictures from our European trips we took as a family each year. I was also more in to Pinball and had developed a Pinball repair page starting in 1996 that was eating up a lot of space and had to be eliminated in favor of family pictures. I left some fundamental pinball repair stuff up on the site but eliminated a bunch of game pictures. I ended up adding another 25 meg of space so that I had 50 meg to play with, but it too was consumed by early 2003. Various Woodman family members had been contacting me over the years and asked me to give up the domain name to one of them so they could use it for their family website. I was tired of the old Woodman stuff anyway, so I figured it was time to make a change to something new. The Internet Wayback machine only shows my woodman.org going back to 1998 but I think that's because they only started around 1996 and probably focused on domain names that ended with a .com extension and not a .org extension.
Concentric was bought by XO Communications and didn't seem to want to budge on disk space prices so I decided in late 2003 to host a new site known as stevechannel.com (the site you are currently visiting) with EarthLink as the hosting company. They offered 250 meg of disk space for the same price I was paying XO for 50 meg. Once again the site grew, but lucky for me, EarthLink upped the space limits to 1 gig of disk space without increasing the price. I found the price to still be kind of high by 2010 when compared to what other companies were charging, so I left Earthlink and moved my website to HostMonster. The current site is about 1 gig in size and I still have even more space so that leaves me plenty of room to grow which I do each year as I add more Pinball games, Pinball restoration photos, and go on more trips to Europe. The original purpose of my website was for family members to view pictures of my kids, but that has changed dramatically. Now, it's more about travel and Pinball with a sprinkling of family pictures that I doubt my family in Florida even knows about. I don't keep the family photos updated that much anymore since relatives now use Facebook, but I kind of like the old photos that showed people when they were younger. That's how it goes.
Back in 1995, my original site had no logos on the home page or anywhere else on the site. I used html "Heading" formats for the various page titles and even on the home page as links to other pages. Later on I started using a graphics program to create logos and used them instead of Heading text since I thought it looked more cool. The following images are some of the home page (also known as a "front" page in the old days) logo images I used on my original Woodman website dating from 1996/1997 to early 2004. I can't find all of the original images I used when switching from Heading titles to images during 1995 to 1996 due to a computer crash some years ago, but they were based on simple text with a drop shadow, so you aren't missing anything. I believe that the 1996/1997 image was indicative of the previous years where I used text with a drop shadow as the front page image. Back then, this was considered to be neat. Jimbo became involved in 1998 and his influence became noticeable with the added creativity he brought to the table.

This is the image I used in 1997 for my home page and as you can see, it's rather simple.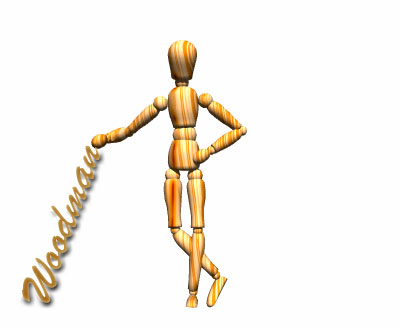 I used Bryce 3D and Poser to create this "Woody" character in late 1997 along with Photoshop to create the drop shadow on the Woodman text.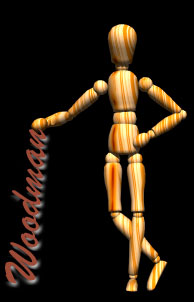 I got tired of the white background in 1997 and changed my site so that I could use the black background during 1998. Same picture, just different background color.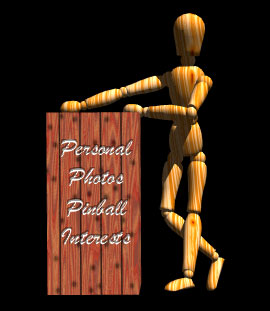 In 1998 I tweaked on the Woody character and decided to add a plank with the main topics and hot spots as links to their corresponding pages.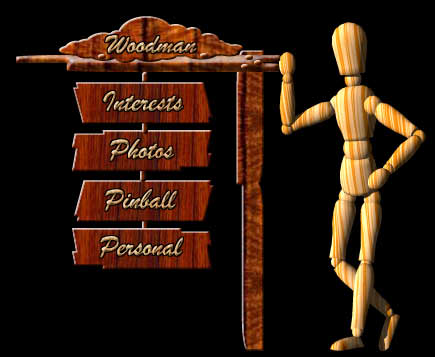 Jimbo got involved with this image back in December of 1998 by adding a post with wooden planks and a more creative touch with the primary page names. I didn't like my Woody character by this time and decided to update the whole look and feel of the website as well as a major content re-write which led to Jimbo creating this more complex graphic, but definitely more creative.

This was one of Jimbo's ideas during his creation process that never made it to the final website. He would run an idea by me and before I could comment, he would often send another one. This theme fit with me living in Colorado, but we moved on to something else.

This was another image created by Jimbo that we never used for some reason. As you can see, there's some real creative things going on in that man's mind. This design probably represents my scattered brain thinking in some way.

This was the image designed by Jimbo that I went with and it became the front page image I used for the Woodman website from 1999 until early 2004. The background was initially white as were each of the web pages, but I decided to update the "look and feel" from a plain white background, to a mellow yellow color in 1999 and rebuilt the site with a new navigation banner Jimbo created for the top of each page that incorporated the same text font and style.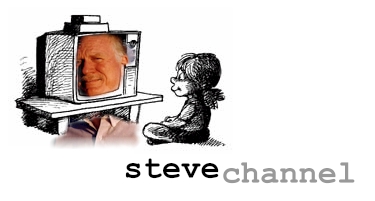 Unfortunately, Jimbo left Qwest in late 1999 to "retire" to Arizona but I stayed in touch with him and asked for some new ideas for stevechannel.com in mid-2003 with a planned launch date for stevechannel.com in early 2004. This picture and the following ones are some of his ideas that were used to focus on a direction I thought I wanted to go with this website.
Here's one of Jimbo's early design ideas from July of 2003 when I was first bouncing the idea for a home page image for stevechannel.com.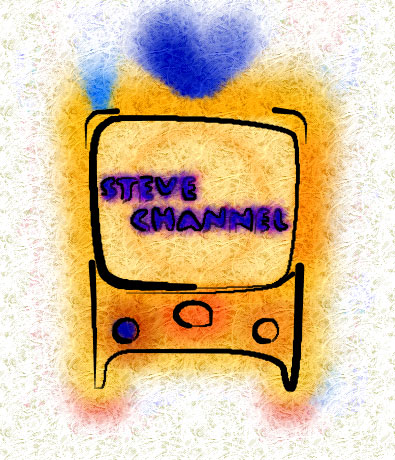 Here's yet another trial home page image Jimbo created in August of 2003.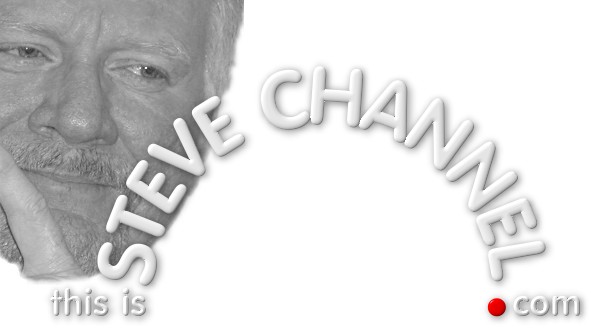 Jimbo decided to take a different approach in August of 2003 with this newer black and white theme with just a a splash of color. That's me in the image of course.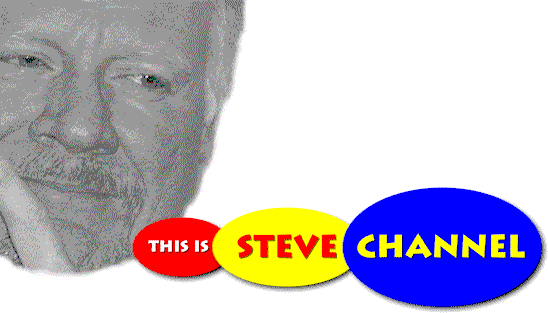 This idea came up during November of 2003 as we were still discussing what to do with the home page image and I couldn't seem to get the right feeling. Love the color contrasts, but it still didn't seem quite right.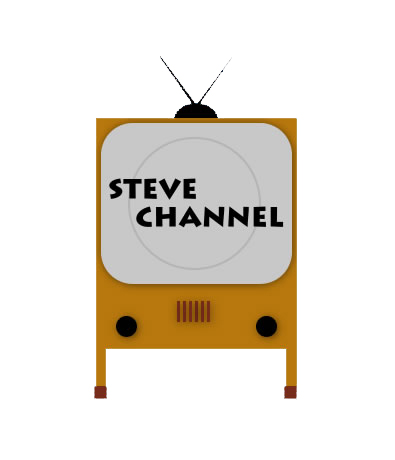 I immediately liked this zany idea for a home page image when Jimbo sent it to me in early 2004. The site as you see it today used to have a white page background in early 2004 and the home page appeared as shown on the left. I didn't care for the white background since I thought it didn't look "TV" enough so I changed the background of the image to be gray as it currently exists today.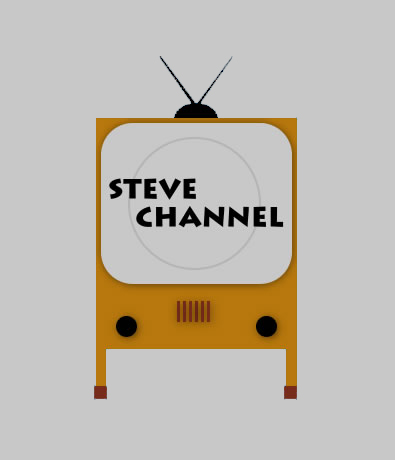 Here's the current home page image with a gray background similar to this page's background color. Although the image with the white background seems to pop a little more, I like the gray background better. Kind of a simple concept, but I think Jimbo's idea for this one worked out better.
The major changes I introduced on SteveChannel.com compared to the Woodman website (besides the logos and front page images) included using some CSS (Cascading Style Sheets) and a program named DHTML Menu Builder for the navigation bar you see at the top of each page. CSS allows me to use the same fonts, colors, and point size throughout my site without having to make a change to every page in the event I change my mind. I simply update the CSS file and the web pages throughout the site reflect the change automatically. I do have some "legacy" pages around that have been ported over the years where I don't take advantage of CSS, but that's due to timeliness on my part (or lack of time). The menu builder tool is good for adding/removing page links to the site since I make the changes using the tool and then apply the changes to all web pages of interest. This is a lot better than going in to each page and mucking with Java Script code. I probably change the navigation bar at least every couple of months, mostly due to adding/subtracting Pinball games.
Jimbo designed the front page image you see when you go to this site's current home page and also came up with the font I use for all my logos. It was also Jim's idea to use the page background color you see that ties in with the idea of a TV due to the name of the website (stevechannel). It was my idea for the logos on each page having the TV snow kind of background since I thought it fit quite well with Jimbo's theme. So now you can see that there is an iterative process that goes on when you host your own website. It pays to know someone like Jimbo since he's really the creative one, I'm more of the implementer.
My old friend Ken Stone is also an early adopter of website creation. He really helped me out with ideas in the early days of my Woodman website design including page transition, broken links, and all the other stuff that goes in with having a quality site. You can visit Ken's World if you would like to see his website (especially if you love cats or like to hike 14,000 ft. mountains). Give him a try as he's always up to something over there (find the page with the button you shouldn't push and keep pushing it till .... well, you'll see).
I was debating at one time using Frames but long since changed my mind. Lots of stuff going on with Frames and they can be quite annoying with side effects that aren't really that desirable. An advantage to the Frames approach would be that the links on the top of this page would remain stationary while you scrolled the page where this text exists, but I'm tired of running in to cases where you can't use the "back arrow" on the browser to return to the last page and all of your history of page moving is wiped out. Printing pages is also somewhat of a nuisance. Not only that, but it's a pain to test stuff for multiple browsers. I created this site primarily for Internet Explorer and at one time, Netscape. Now I check it with Firefox as well. If it doesn't work in another browser, it's kind of too bad since these main browsers dominate Internet user tools and I only have so much time to work with the problem.
The biggest problem when developing a website is learning how to use all of the tools! It's not that it's tough, but it is very time consuming to do all of the page design after first learning how to use the tools. I have to admit that Microsoft's FrontPage 2003 made things pretty easy. I tried to migrate to GoLive in 2003 but ran in to some problems when trying to auto-thumbnail my pictures. If you've spent any time at my site you've noticed that I have tons of pictures. I liked the look-and-feel of GoLive but it just wasn't worth the extra hassle for a rather simple site such as mine. A corporate site would be quite different though. I'd probably use Dreamweaver in that case since many corporations use it as the standard development tool.
I develop sites other than just mine, some professionally, and although I have worked with FrontPage and Expression Web for those sites, I now design and develop sites with Dreamweaver coupled with Fireworks as a wireframe tool. This site is still done using Expression Web (formerly FrontPage) since I haven't had the time to migrate it over to Dreamweaver, but I will probably tackle the migration during 2008 - errrr, make that 2011, no wait - 2012, since obviously it didn't happen in 2008 or 2011 as I planned. I use CSS for some pages of this site, but the presentation is primarily controlled by using tables which was the old way of doing things and many of my pages don't use CSS (which I wish they did). I currently use CSS and XHTML for the newer work I do with other folks' sites and I expect that I will migrate this site to CSS and XHTML too since CSS is the way to go for controlling the presentation of a website. This means that the general table-based layout will disappear and the presentation will be controlled by using XHTML and CSS for most everything. Tables are great for presenting data in a table format, but there's really no reason to use them for presentation any longer. I may still use tables for the pictures though since a picture with a description is somewhat tabular in nature.
Here are the tools I use as I create this site in the order I usually use them:
Microsoft Expression Web - formerly known as FrontPage (used it for developing this site, but I currently use Dreamweaver for other sites I create. The auto-thumbnail feature is quick in Expression Web. FrontPage can no longer be purchased since Expression Web replaced it.


Adobe Photoshop Elements (very good tool for getting logos and pictures ready for the Internet)


Adobe Photoshop Album (for organizing the many pictures I use)


DHTML MenuBuilder (I use this tool exclusively for creating my navigation bars)


Adobe PhotoShop (what can I say? everyone with time should learn this tool)


WS_FTP Pro (for FTPing files to the hosting server)


Adobe Fireworks (use this program for wireframing and sometimes for logos)


Adobe Dreamweaver CS5 (with the exception of this website, my number one tool of choice)


Canon (for scanning pictures although most pictures come from a digital camera)


Internet Explorer (the number one browser....well, maybe)


Firefox (the number two browser that is on Microsoft's heels - some feel it is the number one browser)


Adobe Acrobat Pro (for creating PDF files)


Digital Cameras (I use Canon and Olympus digital cameras for taking pictures)
I hope you've enjoyed your visit to this page and if you have any comments or questions regarding what you've read, use email to reach me.
Awards
And now for something completely different, here are two awards I "won" in the early days of my website.
This site has been rated
among the bottom 95%
of all Web sites by
Pointless Communications®

All Graphics & Text © Steve Corley
The pictures you see were created by Steve Corley unless otherwise noted.
Unauthorized use is strictly prohibited